Good Morning Loves :)
Today, I am enjoying the little things. Sometimes we get so caught up in the hustle and bustle of life that we forget how fortunate we are. We tend to focus on the negative things or things that can overwhelm us so we forget to remember the never- ending good things that happen everyday.
I could start by saying- well, you woke up this morning! That is a blessing. But we know that.
But what about smaller things... like how we get to enjoy a cup of tea or coffee? How we have a cup disposable for us so we don't have to drink out of our hands?
How bout how we have eyes to see how the seasons are changing, or how we are fortunate here in MN to have a coat available for us in case we need one.
For me today, I get to enjoy those little things. I get to enjoy going to work and seeing a great view with a yummy cup of tea. I had an umbrella at my disposal so I wouldn't get wet.
Thing little things can change your attitude- you just have to choose where you put your focus.
If you saw my blog yesterday (
here
), you saw that I was kind of down or things in my life were causing me to doubt... but when I chose to focus on the great little things (& big things) in each day, it has really helped change my attitude around.
So Try It.. & Let Your Light Shine! :)
Let Your Light Shine Thursdays!
Thanks so much for all of you that linked up last week!
Me and Jena over at I'm Perfectly Human loved seeing all of your posts!
Our favorites from last week's link-up are:
Ashley from
Raspberry Glow
Lavender Hair
Thanks again for all of you who participated! Now it's time to link up again :)
RULES:
1.
Link up your favorite post this week - It can be related to faith, fashion, food, family, or whatever else you would like to share that helped you shine your light from the week!
Don't worry if you don't have a blog to link up - just leave a comment with how you let your light shine this week!
2.
Follow
I'm Perfectly Human
&
True Soul & Spirit
on Bloglovin, or any other social media outlet (FB, Twitter, Instagram, or GFC)
3.
Link back by using the button above or your own link.
4.
Visit other blogs and meet new blogger friends!
Each week we will be choosing our favorite posts to feature and share with you all!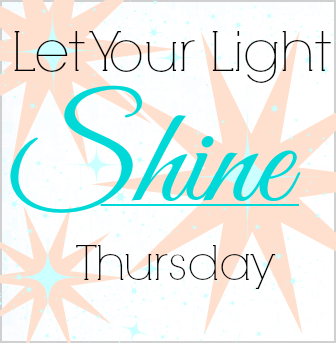 linking up: Funday Monday, Creative Monday, Monday Bloom, Style Sessions , Trend Spin, I feel pretty, What I Wore, Tucker Up, Your Whims Weds, Totally Posted Tuesday,, Three for Thursday, Fav Fashion Friday, Look what I got, Tre Chic, Working Girl Working Style,, *All about you, Simply Lulu Style, Weekend Wind Down, Weekend Blog Hop, Stylish Saturday, Mix it Mondays, Monday Musthaves,I am Mrs K; Her & Nicole, Hump Day, Whit Nic James,
Manic Monday, Manic Monday, Stylish Tuesdays, Transatlantic Blonde, Fashion Informant, What I wore to work, Stylin in St Louis,
Sunday Style