Happy Thursday Everyone!
It's been rainy the last couple days here in MN- but atleast it's not snowing!!
Despite the weather, W and I decided to do a date night. We don't get many of these because I work days and he typically works nights. We often have to designate Saturday mornings to each other because that is one of the only times we can spend quality time together! But we work it out. I miss him during the week a lot so I was grateful that I was able to spend some time with him last night. There are so many restaurants in the area we go to, we literally spent 10 minutes discussing where we wanted to go. Pizza? Seafood? Pasta? Burgers? Ribs? Everything just sounded so good!
Well, W knows, and so do many others, that I LOVE red lobster. It is one of my favorite places to splurge on. So we decided to eat some seafood! It was nice to be able to splurge like that because once I get my house, I will def. have to be more on a budget! But I know Jesus provides!
I always enjoy date nights with my honey.
He always makes me laugh and we can have fun doing anything. After 9 years together, we never fail to still have so much to talk about! I love unwinding to him after a long day at work. I love how it's a give and receive relationship where we both want to give 100% and make the other person happy. I see so many relationships where it's not equal so I feel so fortunate to have a man like I do!
I always get the pick two combination so I can have my shrimp linguini and salmon. I always ask for their maple glaze because it taste SO good paired with the fish. It adds a sweet taste to it, which I love! I always get the veggies on the side because I love nothing more than some grilled veggies! They taste so delish! :)
W LOVES shrimp. So he always gets the breaded shrimp. He tried the steak this time and he said it was really good. I am not a steak person so it didn't look that good to me, LOL, but I am glad he enjoyed it.
Overall, it was an awesome date night! When we got home, he even gave me a foot rub! How lucky am I?! That made me completely relaxed just in time for bed :)
I'm lucky that he actually let me get a picture together! Usually I have to beg lol.
Let Your Light Shine Thursdays!
Thanks so much for all of you that linked up last week!
Me and Jena over at
I'm Perfectly Human
loved seeing all of your posts!
Our favorite from last week's link-up was from Oby @
I Spy Oby
and her printed Nike leggings!
Thanks again for all of you who participated! Now it's time to link up again :)
RULES:
1.
Link up your favorite post this week - It can be related to faith, fashion, food, family, or whatever else you would like to share that helped you shine your light from the week!
Don't worry if you don't have a blog to link up - just leave a comment with how you let your light shine this week!
2.
Follow
I'm Perfectly Human
&
True Soul & Spirit
on Bloglovin, or any other social media outlet (FB, Twitter, Instagram, or GFC)
3.
Link back by using the button above or your own link.
4.
Visit other blogs and meet new blogger friends!
Each week we will be choosing our favorite posts to feature and share with you all!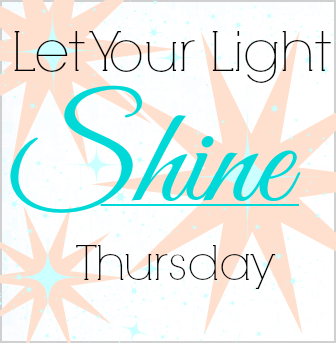 linking up: Funday Monday, Creative Monday, Monday Bloom, Style Sessions , Trend Spin, I feel pretty, What I Wore, Tucker Up, Your Whims Weds, Totally Posted Tuesday,, Three for Thursday, Fav Fashion Friday, Look what I got, Tre Chic, Working Girl Working Style,, *All about you, Simply Lulu Style, Weekend Wind Down, Weekend Blog Hop, Stylish Saturday, Mix it Mondays, Monday Musthaves,I am Mrs K; Her & Nicole, Hump Day, Whit Nic James,
Manic Monday, Manic Monday, Stylish Tuesdays, Transatlantic Blonde, Fashion Informant, What I wore to work, Stylin in St Louis,
Sunday Style